Amelia Earhart Rides . . .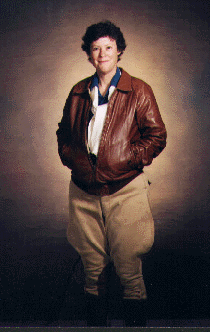 Amelia Earhart lives! Hear first-hand about her harrowing solo flight across the Atlantic--and her plans to fly around the world at the equator. It's April of 1937. Earhart has torn up her Lockheed Electra in a ground loop trying to take off from Luke Air Field on Honolulu. But, she assures you, as soon as the plane is ready, she will take off again on what she hopes will be her last record-setting flight--this time heading east instead of west, but please don't tell the press about the change in direction!
Ride into History's Ann Birney has delighted audiences of all ages with her energetic portrayal of Amelia Earhart. Each performance is tailored to the audience. Emporians and journalists, for instance, hear how William Allen White's only advice to her, delivered through a reporter, was to take a comb into the cockpit and use it before she got out! Ann has introduced Amelia to audiences ranging from schools to libraries, after which she changes personnae to enable the audience to talk about that final flight; to informal elbow rubbing at convention "mixers," staying in character all the while.
"Your presentation was fantastic! The students received a splendid look into Amelia Earhart's life... Your costume and boots were the topic of all the students that day. I also appreciate you taking the time to answer individual questions about how you developed this character and your career as a speaker."