What does Ride do?
Ride into History offers a variety of programming for diverse audiences and community needs.
Performances
Ride into History writes and performs first person narratives. We take audiences back in time and let them visit with some very interesting people. Performances are followed by an opportunity for audiences to visit with the character and/or the scholar behind the character.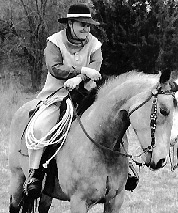 Ride into History offers five characters, which may be booked separately or in any combination. Three of these, everyone's favorite "bad woman" Calamity Jane, suffragist Elizabeth Hampstead, and farm woman Rosa Fix, have been shaped into a dramatic piece, "To Do What I Want To Do." [ In Kansas, funding is available from the Kansas Arts Commission, 913-296-3758]. Hampstead and Fix are composite characters, created from the experiences of many people of the last half of the 1800s. Amelia Earhart is our newest character. Did you know that the famed Kansan, in addition to being a pilot, was also an accomplished rider of horses? Amelia and Calamity appear together in "Amelia Earhart & Calamity Jane: One Frontier, Differently." Ride into History performances can be done with or without our horses.
Talks
Thierer is on the Kansas Humanities Council's Speaker's Bureau (800-562-8057). She has enchanted audiences with talks on rural women, women, and rodeo, "Cowgirls, Homesteaders, and Renegades," how women got the vote, and even "Battle of the Little Bighorn: Myth and Reality."
Workshops and Classes
Ride into History will work with teachers, students, or community members on creating first person narratives, storytelling, and doing local history, including creating an oral history project. We are on the Kansas Arts Commission's Arts in Education roster, which helps fund Calamity Jane's storytelling program in schools. We do half-day or full-day teacher in-services.
We will work with young people for an hour, or for intersession classes lasting several weeks.
Schools: History across the Curriculum
Ride into History solves problems!
What do you do with the child who is only too glad to tell you that she hates history, finds research boring, and considers speaking loudly the only relevant communication skill? Let her act!
Ride into History will perform Calamity Jane or Amelia Earhart for your students. Then, as part of a residency of one day or several, we will convince your young scholars that they, too, can learn and teach history through performance. We will talk with them about how to select a character, how to research that person (and their era), and how to write a script. Then, of course, we will share performance and costuming ideas. Meanwhile, teachers will have met with us and received hand-outs on creating first-person narratives. We have curriculum materials for all of our characters.
The result: students will have learned and practiced reading, writing, speaking, and research skills. They will have better understanding of history and their place in it. Also, they better understand their character's area of knowledge. The Americus student, for instance, who did Albert Einstein came to understand the theory of relativity well enough to explain it to his audience.
Workshops and Consulting
Our creative team can help you come up with solutions to your education dilemmas, whether you are training volunteers or trying to attract younger folks to your museum. We have conducted local history and oral history workshops. We have ideas! We can work with you. We are public historians and independent scholars with abundant resources.
Programs for Your Organization
Joyce Thierer has enchanted audiences with slide talks on rural women, rodeo, "Cowgirls, of Homesteaders, and Renegades," how women got the vote, and even "Custer: Myths and Realities." And then, of course, there are versions of each of our characters for every audience.
Where Do We Ride?
Ride into History, true to our roots, has performed and presented extensively in Kansas--from Elkhart to Goodland to Holton to Hallowell. We have also, however, performed in Texas, South Dakota, Virginia, Wyoming,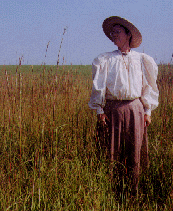 and Missouri--and presented papers at regional and national conferences about our areas of scholarship.
We have performed on indoor stages, on outdoor stages, and on the ground from horseback. We been hired by professional organizations, elderhostels, historical organizations, church groups, and Cub Scouts. We have performed at universities, grade schools, middle schools, and high schools. We have ridden in parades prior to performing at county fairs.
Or, if your group would rather come to us, we can offer a lovely yard with a fire ring, which is where the first public performance of Calamity Jane was held. We are between the intersections of Highways 56, 99, and the I-35 Turnpike, south of Admire, Kansas.