Rosa Fix Rides . . .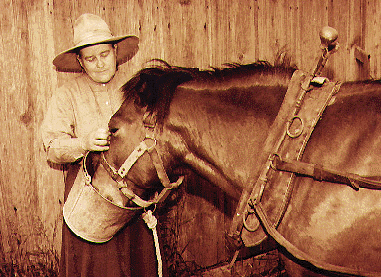 Rosa Fix is coming out of the field with her "smallish" draft horse. She is surprised to see you. Not many people stop by for a bite to eat any more, what with the railroad and all. Her story unfolds as she plans how she'll feed your group.
Rosa Fix is a composite character created by Joyce Thierer and based on the stories of late-ninteenth century farm women. Rosa speaks from 1890.
Rosa's husband Gus, an ardent Populist, is in town once again talking politics with the other men. Rosa doesn't get to town often, it's so far, and there's so much on the farm that needs doing. And then, of course, there's the children. She is glad that there are women in your group. She does not have many opportunities to visit with another woman.
The horse that you saw working with her in the field as you walked up has an interesting story. She got into her egg money to buy him from a mustanger for her daughter. She sure heard about it from Gus, who planned to use the money for a new binder. She muses about how she brought this piece of land to the marriage--but it is her husband's now.
Joyce Thierer brings her research of agricultural history and her experience as a fifth-generation Flint-Hills rural woman to her script and performance of Rosa Fix. Rosa is one woman, and she is most farm women. The farm woman's sphere not only included the interior of the home, and the caring for her family, but also extended to the farmstead and, at times, the fields and pastures. Rural women were very aware of expectations for "proper womanhood," which were constructed in the image of urban wives with wage-earning husbands. These prescriptions clashed with the realities of hard physical labor and making do, as families coped with national and regional economic and political forces, and unpredictable and often devastating weather extremes.